NTB, I was wondering how you feel about Hawaiian shirts, I'm not talking about some tacky cheap looking floral patterns I'm talking about some classic Reyn Spooners or something in that realm...
Bill Lumbergh called, and..fuck it, I had a joke, but I'd rather just say that the sight of Hawaiian shirts makes me want to cause great harm to myself, like drink tobacco chew spit or prance around the halls of Felcher & Sons in said Hawaiian shirt.
Do you think one can wear a short-sleeve shirt (button-down or otherwise) without looking like Dwight Schrute or a character from Office Space? And, regardless of whether or not you're a fan of the look, can you recommend a couple good places to pick one up?
I can only cosign short sleeve popovers for the summer—your intuition is correct, unless you are Dave Navarro, a button up is just not gonna work out for you.  As per recommendations, Engineered Garments made a beautiful madras popover this past SS '11.
Edit: Some Anon spotted a grammatical mistake I made when I first posted this, stating: "DID NTB MAKE A GRAMMATICAL MISTAKE? DID I REALLY SPOT IT? OR IS IT JUST A DREAM? ARE YOU ACTUALLY NOT THE PERFECT BEING WE ALL THINK YOU ARE?"
I'm just confused as to why he went Anon.  If he left his name I would have self-immolated and let him piss out the flames solely out of respect.  Oh well.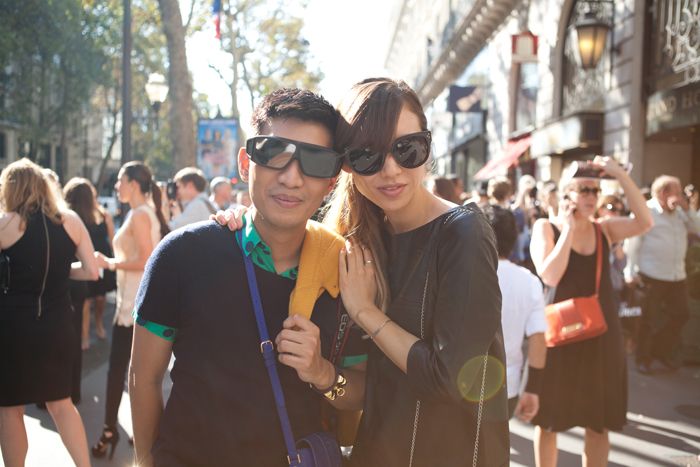 You know that conversation you have once every 18 months or so when you are obliterated with a group of close friends, the one that usually starts something like "I don't know, man.  A million dollars?  Shit, if I had a million dollars…"?
Well, at some point in her life, I'm sure Rumi answered that question something like "I'd hire a hybrid lackey-jester to follow me around at all times, and I'd make him dress up and behave like a mentally handicapped cross between Will.i.am and Annyong from Arrested Development."